Good day dearest readers,
I have written this post a million times. I wrote, deleted, rewrote, and then deleted again. I have tried to figure out the best way to bring this to light, and how to deal with someone who is dishonest. Actually, a thief. 
I am not one to call people out without cause. I am not vindictive or looking to start drama. I am a no-drama person. However, I am not one to sit by and watch thievery take place; it may have happened to me, but I will not allow it to happen to anyone else. 
The indie community is a very close-knit, tight group. I am honored to be a part of it, working as an editor for some very talented and upcoming authors. I have done editing for publishing houses, magazines, small-business owners, dentists, and more. 
Now, for those who don't know me very well: I am a veteran, having served in the U.S. Army. I am a wife and mom. I work full time in D.C., teach college classes, do some social-media management, and of course, editing as well.
What I love the most about this community is its integrity, containing the honest and hardworking folks who are working to make their dreams come true. Integrity is always a huge part of myself, something that I strive to maintain no matter what is going on. My personal motto is "Loyalty Binds Me." I did not come up with this on my own; it was the motto of Richard III, but it really resonated with me, and so I have adopted it as my own.
Now for the issue at hand: As I said, I have been editing for many years. Fifteen years, to be exact. I have worked on everything from comic books to academics. Being fair to those who I am working with is something that I take very seriously. I give respect, and I expect respect in return. Honesty is a huge factor for me. Everyone should be honest no matter what. 
So I am going to be honest and raw here. Alexa Wayne, Arielle Coralie Lyon, Merida Lyon, Lexie Wayne – whatever name she is going by now….
She stole from me. She stole my time, effort, and work. I edited five complete books, one to the 98% finish mark, and several others were started, reworked, and restarted. For the past four years, I have worked with her, was friends with her, and treated her very fairly. Asking for her to pay me was not out of the norm. In fact, it was something that was talked about more than once, but there were always excuses. 
When I pushed it a couple of months ago, this was her response: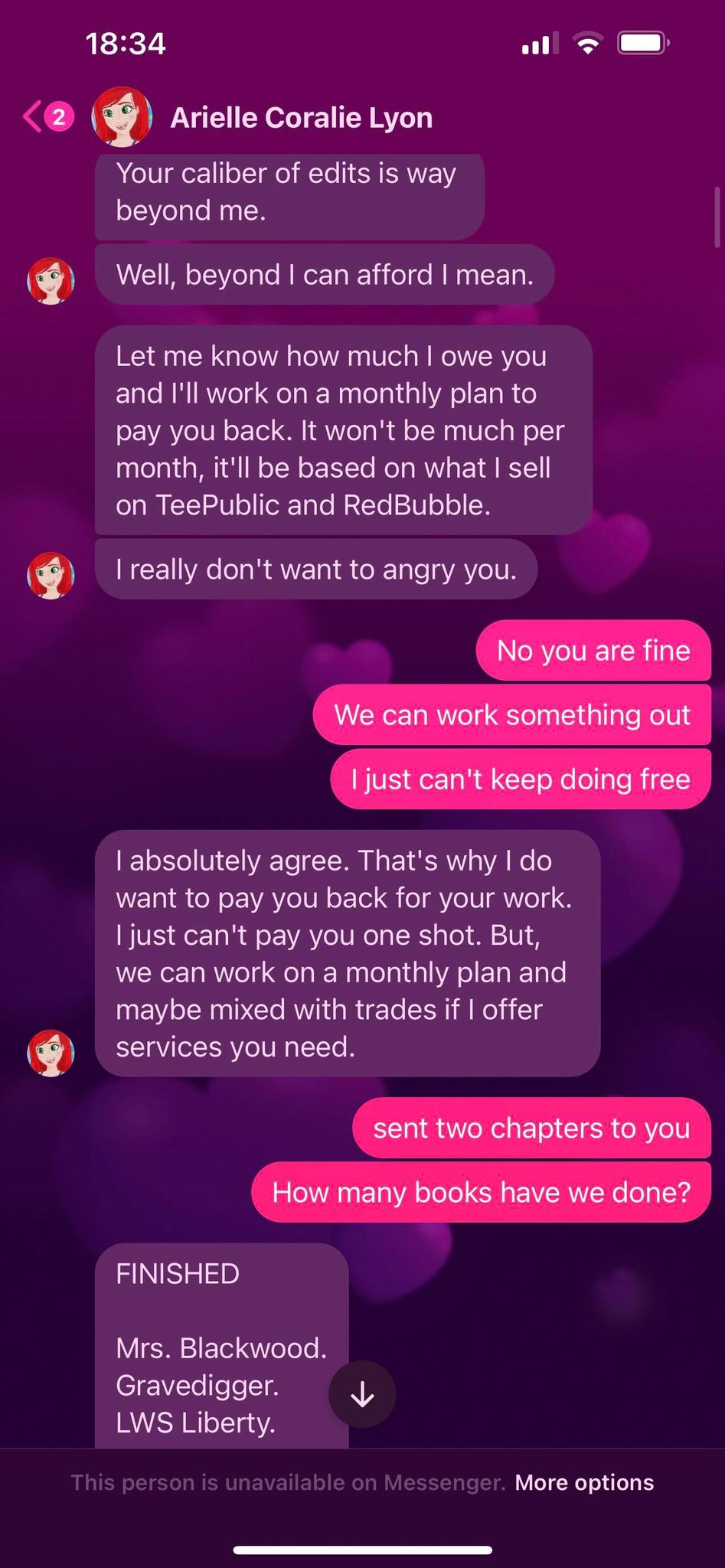 She acknowledged that she needed to pay me for my work. I was very dedicated to her work, because it was not only her name on those books, it was mine as well. She sent other people my way, and I am now working with some amazing authors in the indie community. I count them as friends and enjoy watching their work be released into the world. 
We were more than just writer/editor. We were friends. I stood behind her through thick and thin. Through friendships that had that ended, people that she said were taking advantage of her and more. I had her back. I defended her, stood up for her, and fought for her. I worked hard to be sure that her work succeeded. She published five, FIVE books that I edited for her. Yet, she would not pay me a dime. She wanted to use my contacts all over the place, but claimed she could not afford to give me a single payment. Sure, she created a logo for me. Two hundred dollars is a drop in the bucket and I would have paid for it if I had been asked, but it was offered. 
As was stated in the message above, she asked me to figure out what was owed. I did. With a discount, I asked her for $2,700 for five completed and PUBLISHED books, and one that was almost finished. Now, in addition to those, there were others that were sent to me and started, and while I didn't charge for that, I feel that the above is very fair. But in case some feel it isn't, here is a full breakdown:
For each book – given the amount of editing involved, I would have charged $800. Now, $800 times five is $4,000. For the book that was almost finished, it would have been another $750, which brings the total to $4,750. I only asked for $2,700 which is a MASSIVE DISCOUNT. It comes to $2,050 in actual discounts. I gave her the discount because others were sent to me with whom I am now working. Also, I believed in her and I believed her. When she said we were friends, I believed it. When she said she cared, I believed her. Instead, when I asked for payment, I was met with anger and "trades is the only option." I told her more than once that I would have to think about it, as trades do not pay bills. I even offered a payment plan – as low as $50 a month – because I believed in her, trusted her, and wanted to work with her. Instead, she sent me this message and then blocked me: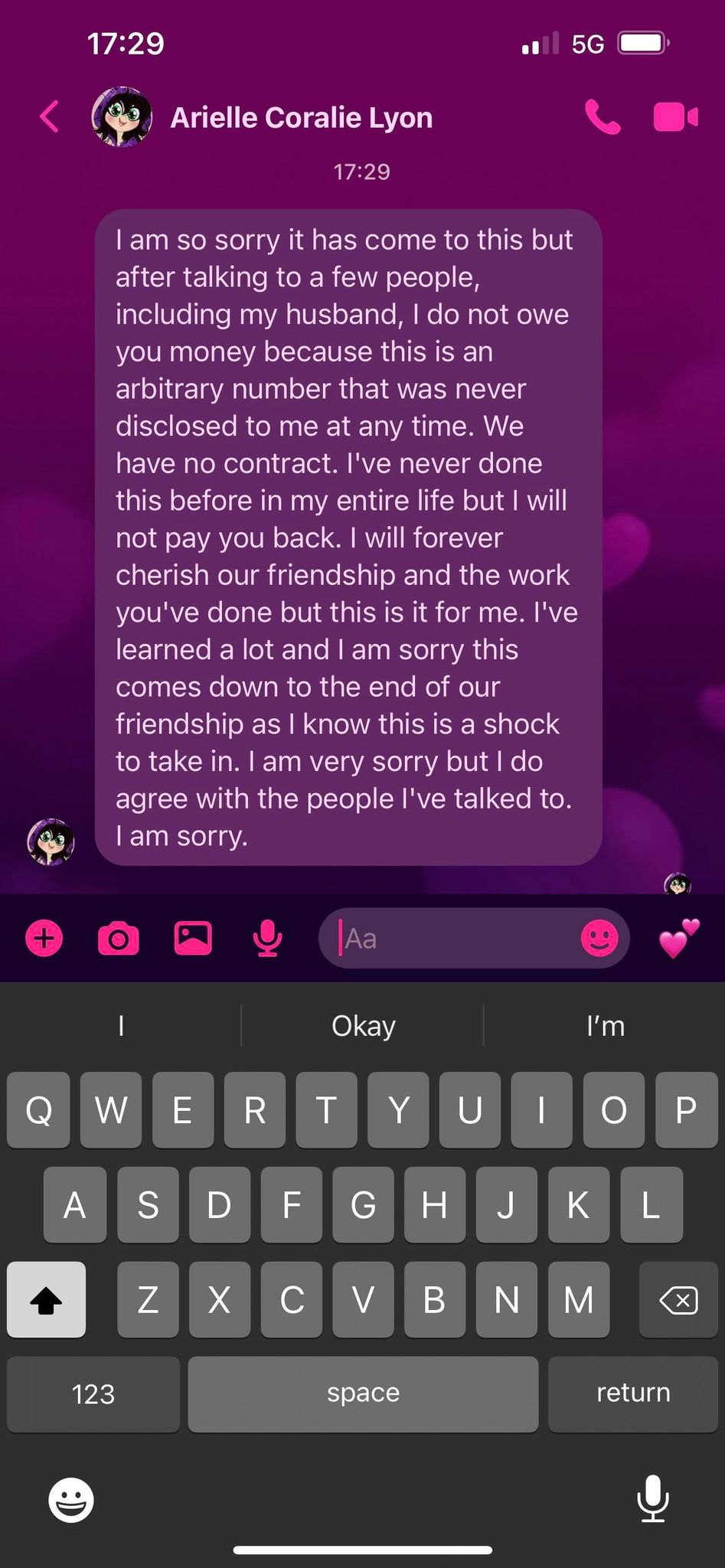 So now, I am calling her out. I don't want this to happen to anyone else. Contracts? Written acknowledgement is still a contract. Everyone knows that I do not work in physical contracts. I make deals with my authors and have never had an issue until this. Arbitrary numbers? It is no secret what I charge, although the prices can vary based on the amount of edits needed and the time that it is going to require to complete. At this point, I'm considering the monetary amount a wash; it is now about the principle and lack of ethics. I just want to be sure this does not happen to anyone else. I do not believe this is the first time this sort of thing has happened. I do, however, find it interesting that she cannot afford to pay me but can afford to pay a publishing company. I am not writing this to garner any sympathy; I just want others in the community to be aware and on their guard.
Whatever she did to me, I will continue to treat my authors with respect and trust. I will continue to work with the indie community and afford them the respect and effort they deserve. I will watch with pride as they grow in their careers and published works. She cannot steal my joy or my work ethic. However, she will no longer steal any more of my time, thoughts, or space.